Newsletter
Brands
Bestsellers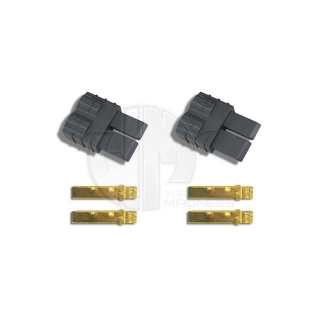 £3.09
Availability:

In Stock

Model:

TRX3070

Brand:

Average Rating:
Traxxas 3070 Genuine Connector Male (2 Male)

The all-new Traxxas High-Current connector flows current like a firehose with virtually zero voltage loss due to power-robbing resistance. The Traxxas connector is a better-engineered solution for real-world use. Large, textured surfaces on the plug bodies are easy for fingers to grip and the clever reverse-polarity protection makes Traxxas connectors virtually impossible to plug in backwards.

Shrouded wire connections eliminate the extra steps to install heat shrink tubing. Beefy, gold-plated copper terminals with large, spring-loaded contact areas ensure a perfect connection every time. Even after thousands of uses, Traxxas connectors maintain their precision feel and incredibly low resistance.

Features
Shrouded wire connections (no shrink tube required)
Wide surface area, gold-plated terminals
Reverse polarity protection makes it impossible to connect backwards
Textured surface for easy gripping
Compatible with high-current 12-gauge wire
Easy assembly
Secure, positive locking spring loaded terminals for consistent contact
Multiple locking barbs keep terminals secure
1,000+ connections with no resistance gain
Traxxas Connector has 24.5 times less resistance than a Molex connector
Write Review
Note: HTML is not translated!
Continue
There are no additional images for this product.