Arrma 1/10 Granite Mega 550 Brushed 4WD Monster Truck (Red/Black) - ARA102714IT2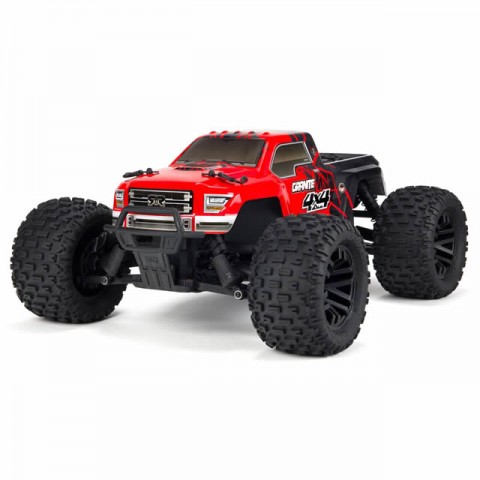 Arrma 1/10 Granite Mega 550 Brushed 4WD Monster Truck (Ready-to-Run)

The Arrma Granite 4x4 Mega Monster Truck is fast and fully equipped. The 2S LiPo-compatible GRANITE 4x4 MEGA RTR arrives ready-to-bash in all terrain. A MEGA 12T motor makes it easy to reach maximum speeds. Waterproof electronics make it ready-to-run in any type of weather. dBoots Fortress tires make it possible to conquer any surface. The included Spektrum 2.4GHz Radio delivers the ultimate in precise control. Precision aluminium, super-tough steel and composite materials, all combined in an easy-to-maintain vehicle design that is built for action, straight from the box. Your GRANITE 4x4 MEGA has full-scale Monster Truck looks and will launch you straight into the dirt-blasting, rock-crushing fun. Just add 4AA batteries and get bashing.

Features

Spektrum STX2 2.4Ghz radio system
2-Channel SRX200 waterproof* receiver
Built-in 3-position throttle limiter
ADS-5 waterproof* 5kg-cm servo (70oz-inch @ 6V)
MEGA 12T Brushed 550 motor
MEGA waterproof* ESC
IC3™ connectors (EC3™ compatible)
Easy-access power module
Easy-access electronics module
Easy-access diff module removal front and rear
Oil-filled shocks
Super-smooth bearings
Super-tough metal gears
Tough multi-spoke black wheels and multi-terrain dBoots® Fortress tires
Adjustable body mounts
Adjustable ride height
Extended height dirt defenders
30mph speed achievable in optimum driving conditions with optional gearing
Waterproof* for details on waterproof standards, refer to the instruction manual.

Specifications:
Length - 16.9" (429mm)
Width - 13.5" (342mm)
Height - 7.7" (196mm)
Wheelbase - 11.3" (287mm)
Ride Height - 1.85" (47mm)
Weight - 6.5lbs (2.9kg)
Max Battery Dimensions - (156x51x48mm with battery mounting block removed)

In the Box
Arrma 1/10 Granite Mega 550 Brushed 4WD Monster Truck (Red/Black)
Spektrum 2.4GHz STX2® Radio and SRX200 Receiver
2400mAh 8.4V 7-cell NiMh Battery
ADC-N7 7-cell NiMh Wall Charger

Required to Complete
4AA Batteries for the Transmitter

Note: If powering the vehicle with a 2S LiPo battery, the jumper on the ESC MUST be set to LiPo mode. Face the side of the ESC with the Battery Mode Indication Sticker Place the jumper across the centre and left pins when viewing this sticker. Some aftermarket batteries may require the removal of the Battery Mounting Block for proper fit. This can be accomplished by removing the 3x12mm screw that threads through the chassis and mounting block.