Carrera Nintendo Mario Kart 8 RC Quad Bike with Controller (Mario) - CA200996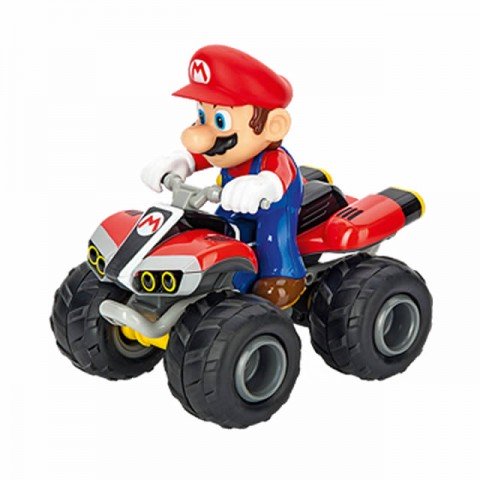 Carrera Nintendo Mario Kart 8 RC Quad Bike with Controller (Mario)

When the moustachioed plumber Mario speeds around in his full suspension Nintendo Mario Kart™ 8, you get a portion of real life excitement outside, and in your own home. There's no stopping this 19.5 cm off-road Quad Bike at a top speed of 9km/h for around 20 minutes.

The Carrera RC Full Function Controller makes it easy and fun to manoeuvre him over sticks and stones, and around steep bends - without ever losing control; unless it's due to overexcitement. 6 batteries are included so that the Carrera RC Super Mario Kart 8 Mario is ready to race. Thanks to 2.4GHz technology he can race in a field of up to 16 drivers. What are you waiting for?

Super Mario is in his Nintendo Mario Kart(TM) and ready for the big race.

Full function
Car can be steered in all directions; full driving and steering functionality!

Auto OFF
Controls and cars switch off automatically after 30 minutes of standstill.

Ready to Drive
Car, controller and batteries are included.

Specifications:
Speed - up to 9km/h
Running time - upto 20 minutes
Length - 19.5 cm
Scale - 1:20

In the Box
Nintendo Mario Kart™ 8, Mario™
6AAA Batteries (Not-Rechargeable)
2.4Ghz RC Controller
Operating instructions

Required to Complete
Nothing at all, everything you need is in the box.