Carrera Nintendo Mario Kart 8 RC Quad Bike with Controller (Peaches) - CA200999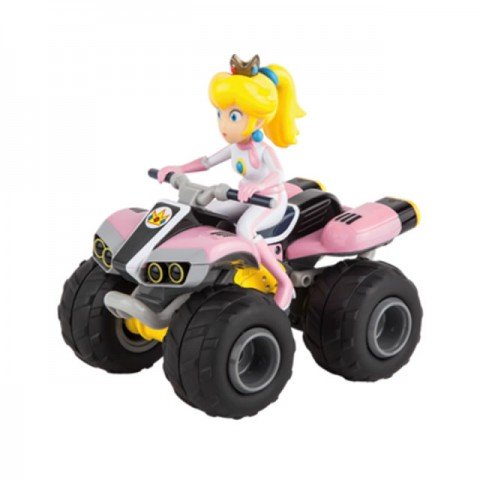 Carrera Nintendo Mario Kart 8 RC Quad Bike with Controller (Peaches)

Here's a lady that loves action: Prinzessin Peach™ puts the pedal to the metal in this high-speed off-road kart. Don't be fooled by the pink exterior! There's nothing ladylike about this dashing, dynamic kart. Princesses and princes can go straight into action and enjoy 20 minutes of high-speed thrills due to the 6 batteries included for the kart and controller. This car is the perfect opportunity for junior drivers to discover the immense world of Carrera RC.

The steering and driving functions are extremely precise and react to every single finger movement. Yoshi is powered by 6 batteries that ensure immediate action and fun. Everyone who goes for this RC Off-Road Kart is sure of one thing: Fun! Yoshi is seated and ready for action in his Carrera RC Nintendo Mario Kart(TM) 8.

He's always ready to run and to enjoy the next adventure, indoors or outdoors.

Full function
Car can be steered in all directions; full driving and steering functionality!

Auto OFF
Controls and cars switch off automatically after 30 minutes of standstill.

Ready to Drive
Car, controller and batteries are included.

Specifications:
Speed - up to 9km/h
Running time - upto 20 minutes
Length - 19.5 cm
Scale - 1:20

In the Box
Nintendo Mario Kart™ 8, Peaches™
6AAA Batteries (Not-Rechargeable)
2.4Ghz RC Controller
Operating instructions

Required to Complete
Nothing at all, everything you need is in the box.