E-flite 3000mAh 3S 11.1V 30C LiPo Battery with EC3 Connector - EFLB30003S30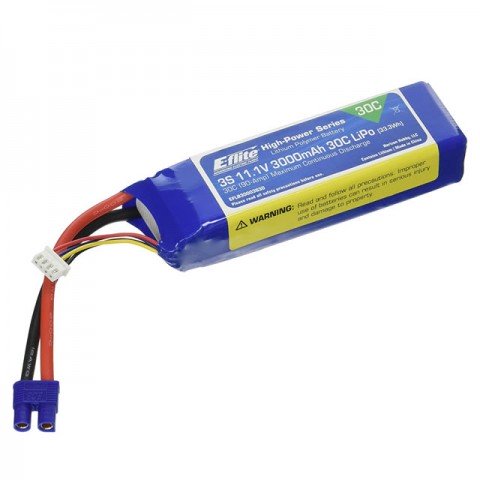 E-flite 3000mAh 3S 11.1V 30C LiPo Battery with EC3 Connector

E-flite High-Power Lithium Polymer Batteries offer an excellent blend of weight, power and performance. Available in a wide variety of capacities and voltages, there's a battery perfect for almost any application from indoor slow flyer to large-scale sport and aerobatic airplane models, as well as micro to mid-sized helicopter models.

Features
Capable of maximum continuous discharge rates up to 30C
Equipped with balancing leads and a connector that are compatible with most balancers and balancing chargers
Equipped with E-flite EC3 connector on main power leads
Perfect battery for park flyers using Park 450 and Park 480, and Power 10 motors
Perfect battery for the Blade® 350 QX series drones
Specifications:
Type - LiPo
Capacity - 3000mAh
Voltage - 11.1V
Connector Type - EC3
Wire Gauge - 13 AWG
Configuration - 3S
Maximum Continuous Discharge - 30C
Maximum Continuous Current - 66A
Length - 122mm
Width - 35mm
Height - 26mm
Weight - 249g

Please Note: LiPo batteries must be charged with a LiPo-compatible charger. Never charge batteries unattended. Only charge Li-Po batteries with chargers specifically designed to charge Li-Po batteries. NEVER use a Ni-MH or Ni-Cd charger. Li-Po batteries, when not properly used, may burst and catch fire. It is highly recommended that a safe pouch or fireproof container is used for storage and whilst charging the battery. By purchasing this Li-Po battery, the buyer assumes all risks associated with its use.