E-flite Thrust 14.8V 1300mAh 4S 35C LiPo Battery with EC3 Connector - EFLRB13004S35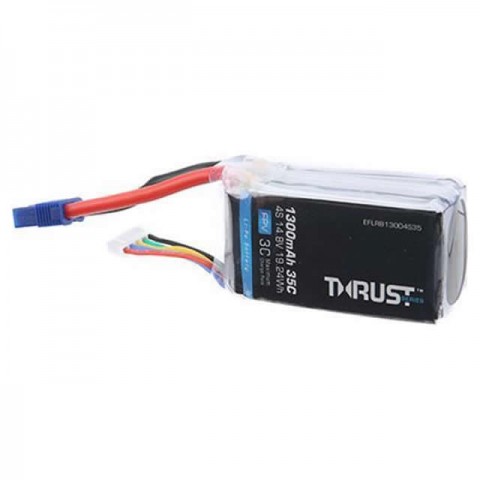 E-flite Thrust 14.8V 1300mAh 4S 35C LiPo Battery with EC3 Connector

Compact E-flite Thrust Series lithium polymer batteries are rated at 35C to offer an excellent power-punch without a major weight penalty. Four capacity sizes are available from 850mAh to 1800mAh with the 1000mAh and 1300mAh packs rounding out the middle of the range.

These batteries come with the popular EC3 connector with silicone insulated wire for a level of durability that can be appreciated at all performance levels. The output and balance leads are short to make installation on FPV racers as sleek as possible. Like the popular line of E-flite High-Power LiPo batteries, its JST-XH balance connector is compatible with a wide range of popular chargers such as those from Orion and Dynamite.

A 3C charge rating means that these batteries can be fast charged safely. If you're looking for a compact 4S LiPo pack to suit your electric powered aircraft, choose an E-flite Thrust Series battery and go for it!

Features
Powerful 35C continuous discharge rating
Race-ready 4-cell configuration
Heavy-duty lead wire with durable silicone insulation
Lightweight for optimum flight performance
Flexible silicone insulated balance wires
Compact construction with ultra-short leads
Assembled with EC3 main and JST-XH balance plugs
Specifications:
Type - LiPo (Lithium Polymer)
Capacity - 1300mAh
Voltage - 14.8V (3.7v per cell)
Connector Type - EC3
Wire Gauge - 12AWG
Number of Cells - 4
Configuration - 4S1P
Continuous Discharge - 35C
Continuous Current - 45.5A
Length - 2.75 in (70mm)
Width - 1.26 in (32mm)
Height - 1.48 in (37.5mm)
Weight - 5.47oz (155g)

Please Note: Lithium batteries must be charged with a Lithium-compatible charger. Never charge batteries unattended. Only charge Lithium batteries with chargers specifically designed to charge Lithium batteries. NEVER use a Ni-MH or Ni-Cd charger. Lithium batteries, when not properly used, may burst and catch fire. It is highly recommended that a safe pouch or fireproof container is used for storage and whilst charging the battery. By purchasing this Lithium battery, the buyer assumes all risks associated with its use.