Gens Ace 5000mAh 14.8V 50C 4S1P LiPo Battery with EC5 Connector - GC4S5000-50E5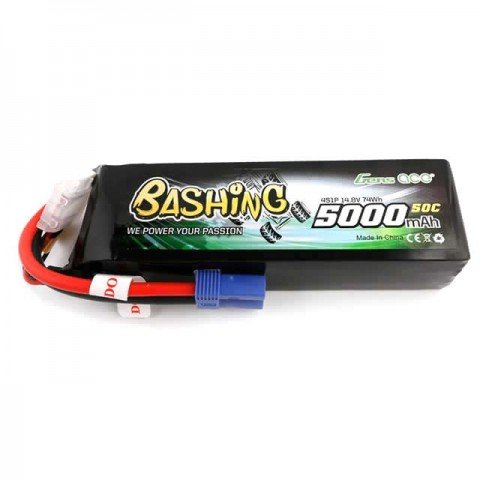 Gens Ace 5000mAh 14.8V 50C 4S1P LiPo Battery with EC5 Connector

Gens Ace lithium batteries deliver high performance and reliability for radio control airplanes, helicopters, FPV applications, RC cars and large film oriented drones. Gens ace 5000mAh 3S 14.8V 50C LiPo battery has the best price, high quality, and great service. This battery is best suited to work with 1/8th and some 1/10th RC car models. Please check the measurements before making your purchase.

Specification:
Capacity - 5000mAh
Voltage – 14.8V (3S)
Max Continuous Discharge - 50C (290A)
Max Burst Discharge - 100C (580A)
Charge Rate - 1-3C Recommended, 5C Max
Balance Plug - JST-XHR
Connector Type – EC5
Length - 137mm
Width – 44mm
Depth - 32mm
Weight - 395g

Please Note: LiPo batteries must be charged with a LiPo-compatible charger. Never charge batteries unattended. Only charge Li-Po batteries with chargers specifically designed to charge Li-Po batteries. NEVER use a Ni-MH or Ni-Cd charger. Li-Po batteries, when not properly used, may burst and catch fire. It is highly recommended that a safe pouch or fireproof container is used for storage and whilst charging the battery. By purchasing this Li-Po battery, the buyer assumes all risks associated with its use.