Intellect Silicon-Graphene 2S 7.6v 6000mAh 120C LiHV Shorty Battery Pack - IPBG2S6000HV4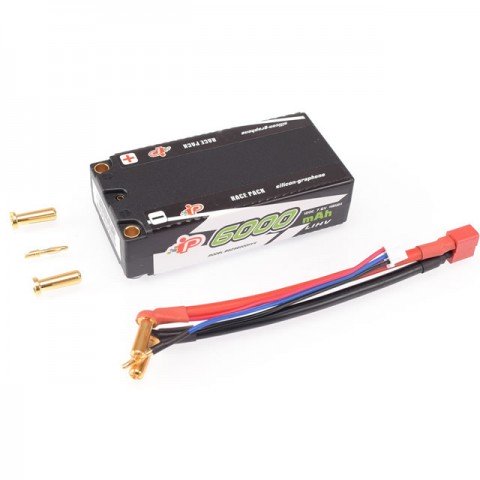 Intellect Silicon-Graphene 2S 7.6v 6000mAh 120C LiHV Shorty Hardcase Battery Pack

For 2019 are Intellect's range of awesome Lithium batteries! The new LiHV HV4 will display a higher voltage and power than 2018 models. Bench-marked against other leading brands, Intellect batteries provide higher performance for the same specification of battery. 2019 batteries are all Silicon-Graphene based LiHV. Silicon Graphene packs have improved cycle time when charged at 1C rates and can be charged at a higher C rating, with less risk of damage to the pack. LIHV technology has the ability to be charged to 4.35v per cell, but normal racing regulations allow up to 4.2v so LIHV are much safer.

Specification:
Connector Type – Deans with 5mm Bullet
Balance Lead - JST-XH
Voltage - 7.6V LiHV
Battery Configuration - Shorty
Battery Capacity - 6000mAh
C Rating - 120C
Dimensions - 25.1H x 47W x 96L mm
Weight - 215g

Please Note: Lithium batteries must be charged with a Lithium-compatible charger. Never charge batteries unattended. Only charge Lithium batteries with chargers specifically designed to charge Lithium batteries. NEVER use a Ni-MH or Ni-Cd charger. Lithium batteries, when not properly used, may burst and catch fire. It is highly recommended that a safe pouch or fireproof container is used for storage and whilst charging the battery. By purchasing this Lithium battery, the buyer assumes all risks associated with its use.