Overlander Supersport 11.1v 35C 3S 1600mAh LiPo Battery - OL-2565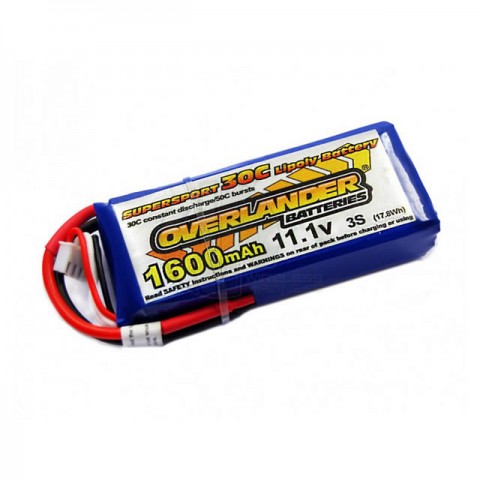 Overlander Supersport 11.1v 30C 3S 1600mAh LiPo Battery (No Connector Fitted)

Fully compliant LiPo batteries, choice of champions and record breakers!

The best just got better. Overlander NEW Sport 1600mAh 3S 11.1v 30C is part of the new Supersport range. All Overlander Supersport 30C LiPo cells are manufactured using the "STACKING" method, unlike many of the cheaper Chinese imports which are manufactured using the "WINDING" construction, a much cheaper construction method, with very limited discharge rates (15C - 18C) but often quoted as 25 - 30C. Stacking construction is known for its longevity, and gives stronger more reliable voltage.

Giving you the same Overlander quality, passion and after sales service at a great value price. The Sport range is tried and tested, and recognised as offering consistent power and durability being used by enthusiasts new and old to the hobby with exceptional results this includes the Supersport 1600mAh 3s 11.1v 30C LiPo.

All pack cells are fully matched 3 ways before assembly:
1) Internal resistance
2) Voltage
3) Weight

Features
LiPo Battery Pack fitted with JST-XH balance plug
Superb value without the loss of performance
A real 30C product tested and proven
30C continuous charge, 50C bursts
High quality silicone leads
Specification:
Chemistry - LiPo
Voltage - 11.1V
Cell Number - 3S
Battery Capacity - 1600mAh
Discharge Rate - 30C Constant
Burst Discharge - 50C (8 seconds)
Charge Rate - 2C Max
Balance Plug - JST-XH
Connector Type - No connector fitted
Watt Hours - 17.8(Wh)
Length - 85mm
Width - 34mm
Depth - 21mm
Weight - 125g

Please Note: LiPo batteries must be charged with a LiPo-compatible charger. Never charge batteries unattended. Only charge Li-Po batteries with chargers specifically designed to charge Li-Po batteries. NEVER use a Ni-MH or Ni-Cd charger. Li-Po batteries, when not properly used, may burst and catch fire. It is highly recommended that a safe pouch or fireproof container is used for storage and whilst charging the battery. By purchasing this Li-Po battery, the buyer assumes all risks associated with its use.