Badger Renegade Krome Airbrush Kit - BARK1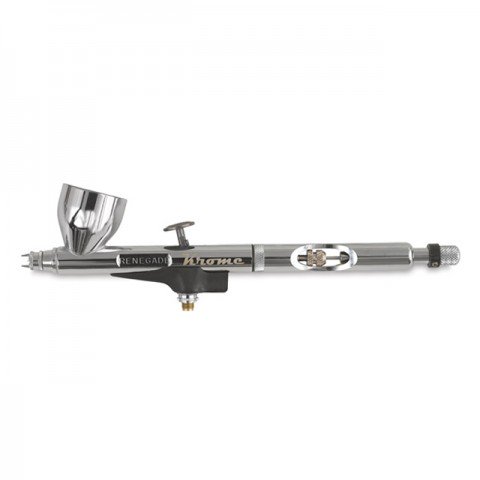 Badger Renegade Krome Airbrush Kit

The Renegade airbrushes aren't for everybody - they are for the proven elite artist. This new airbrush series consists of three feature loaded airbrushes - The Velocity, the Spirit, and The Rage. The Renegades are for use in extremely detailed and tight graphic applications. These incredibly innovative airbrushes possess the most precise paint tip and linear air flow (needle) angle specifications, and feature manufacturing processes and materials technology never before utilised by the airbrush industry.

The Renegade airbrushes are superior to anything that precedes them in a dedicated custom graphics airbrush. They truly take airbrushing to the next level.

Any professional artist desiring the finest tools and to elevate their skill to its highest level needs to experience the beauty and perfection of the Renegade airbrushes.

The RK-1 is an internal mix, dual action, gravity fed airbrush that's ideal for auto detailing, illustration, model detailing, makeup application, fingernail painting, cake decorating, and other highly detailed applications.

This airbrush boasts an improved "glide coat" finish on the trigger and rocker lever for exceptionally smooth, precise, friction-free airbrushing. The RK-1's softer trigger tension allows for greater control, and its improved micro-meter trigger stop lets you set and reference spray patterns as fine as 1/1000 of an inch.

The chrome finish is sleek, and an ergonomic underbody finger rest offers maximum comfort during prolonged detail sessions. The finger rest is easily removable for cleaning.

In the Box
RK-1 Airbrush with non-removable, easy-to-clean, 3/8oz colour cup
0.21 mm ultra fine needle/nozzle
0.33 mm fine needle/nozzle
Two spray regulators (one for open spraying, one with protective horns)
Protective rubber tip cap
Black-finished locking aluminium storage case with steel reinforced corners

Please Note: This kit does not include an air hose.