Newsletter
Brands
Bestsellers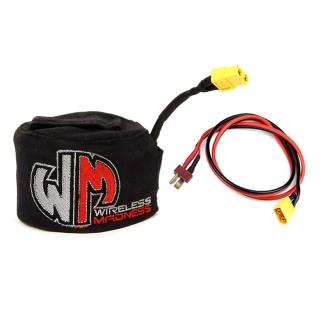 £32.99
Price Match Promise
Wireless Madness offers a price match promise to help our customers get the best deal possible at all times and all the while retain their custom. We aim to be as competitively priced as possible by scanning our competitiors prices. If you see an identical product elsewhere (other than our own promotions across our sites) including delivery, we will endeavour to match the price! In order to take advantage of this offer you must show us where it is cheaper.

Our price match applies only to UK Internet retailers and stores that have the identical product IN STOCK for immediate same day despatch or collection in store. Prices are compared not just on the product price but it also includes the cost of delivery. Price match critera only applies before an order is placed. Once an order has been placed we cannot price match retrospectively. For more details we request you speak to one our sales team staff on 01772 200 888.

Terms and Conditions: The price promise policy is done in good faith and can be withdrawn at any time without notice. A price match cannot be used in conjunction with other offers running on wirelessmadness.com. There maybe the rare case we cannot match a price and as such we are not able to guarantee price matching. The wirelessmadness.com Price Match Promise is subject to change and can be withdrawn at any time and is only available when the above criteria's are met.
Availability:

Model:

WIREHIB

Brand:

Average Rating:

Not Rated
Wireless Madness Nitro Car, Buggy, Truck or Truggy Engine Heater

The Wireless Madness engine heater is the ultimate accessory for your RC nitro engine. Designed to bring your engine up to running temperature in as little as 5 minutes without having to start the engine, the heater is a must have tool for both the seasoned racer and the casual enthusiast.

This great heater has been developed to heat all critical parts of your nitro engine. This allows easy starting and tuning meaning you can hit the track ready to go without warm up laps which use valuable fuel and put extra wear on the engine.

The break in procedure is made much more efficient and pre heating is especially important at this critical time in your engines life. By pre heating the engine with this heater its life could be doubled.

Powered by a 3S LiPo 11.1v, a 4S LiPo 14.8v or a 12 volt gel cell, the heater has been designed to heat the engine up quickly, efficiently and fits engines from .18 up to .28.

It has an access point on top so you can monitor the engine temperature which also allows easy access for the glow starter.

Being compact it is light and stores away easily. The cover is hard wearing and easy to clean. Only the very best components are used to ensure a long and trouble free lifetime.

How to Use:
1. Place the engine heater over the cooling head and keep the wire facing the rear wing.
2. Connect to any suitable 12v lead acid, 3S 11.1v LiPo or a 4S 14.8v LiPo battery with Dean's connector and power on the heater.
3. Disconnect the power supply once the engine has achieved operating temperature, this could be approx. 5-10 minutes dependant on the ambient temperature.
4. Remove and store the engine heater in an appropriate place whilst it cools down.

Required to Complete
12v lead acid battery, 11.1v 3S or a 14.8v 4S LiPo battery with Dean's connector
Compatible LiPo Battery Charger
Write Review
Note: HTML is not translated!
Continue
There are no additional images for this product.