Traxxas 6700mAh 14.8V 4S 25C LiPo Battery with ID Connector - TRX2890X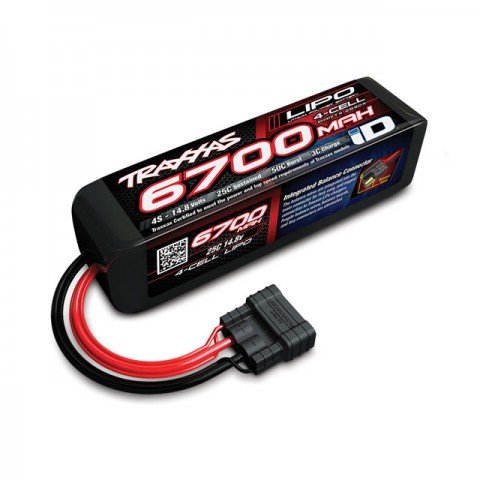 Traxxas 6700mAh 14.8V 4S 25C LiPo Battery with ID Connector

Traxxas takes battery power for your X-Maxx to the next level with new 4-cell LiPo battery. The 6700mAh capacity and 50C burst discharge rate deliver the power, performance, and runtime worthy of the X-Maxx. Checking in at over 30-volts in 8s configuration, Traxxas 4-cell LiPos will stand X-Maxx on its wheelie bar and have it catching massive air as fast as you can grab the throttle. Built using the same sturdy construction methods as the Traxxas 2-cell and 3-cell batteries.

All Traxxas iD Power Cell Battery Packs are optimised for free-flowing power and maximum punch with premium quality, low-resistance cells; flexible, silicone-jacketed 12-gauge wire; heavy-duty welded tabs; and patented Traxxas' high-output, gold plated, High-Current Connectors.

Features
Traxxas High-Current Connectors
Integrated LiPo Balance Charging Wires
Semi-Rigid Construction for efficient packaging
Oversized Discharge Tabs for minimum resistance
Hard-wired 12-gauge Maxx Cable soldered to cells
Centre Wire Exit for guaranteed proper fitment
Specification:
Configuration - 4S 1P
Connector - Traxxas high current connector
Balance Plug - JST-XH plug
Continuous Discharge - 25C (168A)
Max Burst Rate - 50C (336A)
Watt Hours – 99.16
Charge Rate - 1C (6.7A)
Max Charge Rate - 3C (20.1A)
Dimensions - 185x44x50mm
Weight - 655g

Please Note: LiPo batteries must be charged with a LiPo-compatible charger. Never charge batteries unattended. Only charge Li-Po batteries with chargers specifically designed to charge Li-Po batteries. NEVER use a Ni-MH or Ni-Cd charger. Li-Po batteries, when not properly used, may burst and catch fire. It is highly recommended that a safe pouch or fireproof container is used for storage and whilst charging the battery. By purchasing this Li-Po battery, the buyer assumes all risks associated with its use.