Traxxas Power Cell 7.4V 4000mAh 25C 2S LiPo Battery - TRX2841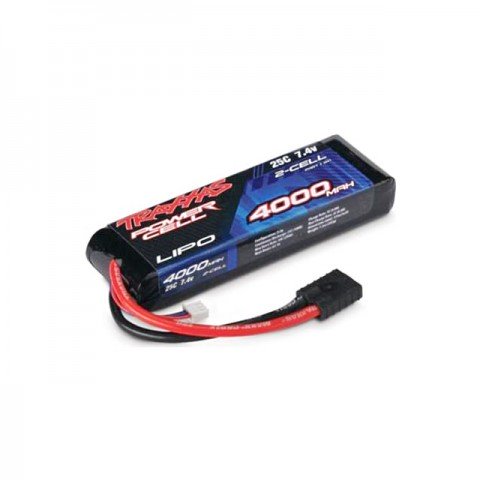 Traxxas Power Cell 7.4V 4000mAh 25C 2S LiPo Battery

Traxxas Certified LiPo batteries are engineered to give you the punch and on-demand power to reach the top speeds your RC model is built to achieve. Traxxas Power Cell LiPo batteries are engineered specifically to fit Traxxas models and maximize their full performance potential. Only Traxxas gives you more of what you want most. simple installation, a great price, and the most speed and run time available.

Specification:
Type - LiPo (Lithium Polymer)
Total Capacity - 4000 mAh
Voltage - 7.4V
C Rating - 25
Connector - High current Traxxas connector
Balance Plug - JST/XH
Wire - 12AWG
Length - 135mm
Height - 17mm
Width - 45mm
Weight - 7.2oz

Please Note: LiPo batteries must be charged with a LiPo-compatible charger. Never charge batteries unattended. Only charge Li-Po batteries with chargers specifically designed to charge Li-Po batteries. NEVER use a Ni-MH or Ni-Cd charger. Li-Po batteries, when not properly used, may burst and catch fire. It is highly recommended that a safe pouch or fireproof container is used for storage and whilst charging the battery. By purchasing this Li-Po battery, the buyer assumes all risks associated with its use.