Mtroniks Tio Storm 19T Waterproof Brushed ESC LiPo Compatible Speed Controller - TIOSTORM19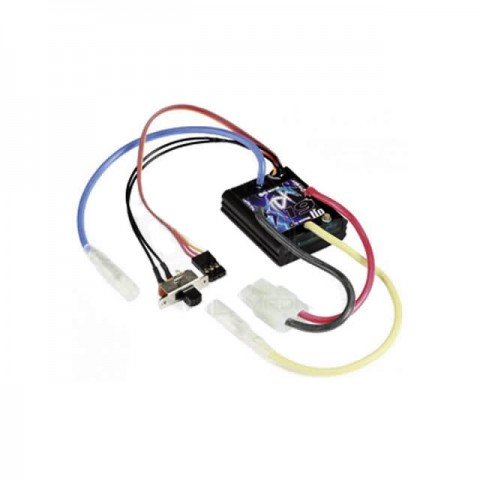 Mtroniks Tio Storm 19T Waterproof Brushed ESC LiPo Compatible Speed Controller
The Tio Storm 19 100% waterproof speed controller has been designed around an intelligent bridge switching processor, this allows far greater control of the motor in drive and braking modes, resulting in much better speed control and fully symmetrical performance with no delay in forwards or reverse.
The intelligent braking/reverse software is a life saver for gearboxes and drive trains, it actually monitors the speed and electrical characteristics of the motor whilst in use and automatically stops the motor turning before activating reverse! Giving instant reverse without any excess damage to the RC models drive train!
The Tio STORM 19 also includes, built in Li-Po cut off protection, this monitors the battery packs voltage, and prevents them from dropping below safe levels. It can also be programmed to run on Ni-Cd/NiMh cells or Li-Po cells with one easy press of a button. Another feature of the Tio Storm is the two different running modes. Reverse active and Reverse in-active. In effect you are getting two speed controllers for the price of one, a reversible and a forwards only!
Tio Storm 19 has a 19 turn motor limit, what this means is that you can use any, DC Brushed 540 size motor, as long as the number of turns on that motor are equal to or higher than 19.
Features
Legendary 100% waterproof design
Selectable battery type, Ni-Cd/NiMh or LiPo (Blue LED indicator)
Built in failsafe to protect against complete loss of signal or when out of range (compatible with all manufacturers receivers)**INDUSTRY FIRST**
Absolute short circuit and motor overload protection
19 turn sport tuned motor limit
5V/1.5A BEC receiver connector
Quad core bridge switching microprocessor
4-8 cells Ni-Cd/NIMh or 2 cell LiPo
Dual mode - Forwards and Brake or Forwards, Brake and Reverse
4 Layer super power circuit board
Thermal integrated protection system
Digital one touch set up
Specification:
Length - 40mm
Width - 35mm
Height - 12mm
Weight - 55g