Overlander Sport Track 4500mAh 3S 11.1v 55C LiPo Battery in Hard Case with Deans Connector - OL-2956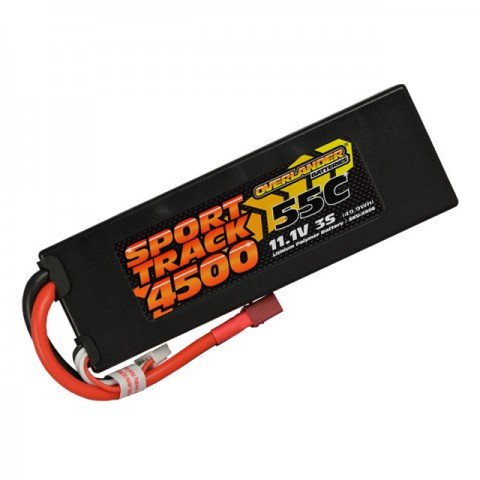 Overlander Sport Track 4500mAh 3S 11.1v 55C LiPo Battery in Hard Case with Deans Connector

All of our Overlander Sport Track LiPo batteries deliver the same qualities as our hugely popular Supersport battery range but with an added hard case for better suitability for RC cars and buggies. The hard shell provides extra protection for the battery, allowing the RC car to be driven to its extremes whilst maintaining solid power.

All Overlander Sport Track cells are manufactured using the superior "stacking" method, which is known for its longevity, and gives stronger more reliable voltage. The Sport Track range is tried and tested, and recognised as offering consistent power and durability being used by RC enthusiasts new and old to the RC hobby with exceptional results.

Overlander is proud to work in conjunction with the renowned Fullymax to produce Overlander's LiPo cells. The production process for these cells is fully automatic and completed in a dust free atmosphere using uniformity and conformity. As a result, with Overlander you're guaranteed to receive the high-quality, top-performing batteries that you expect.

Specification:
Length - 139mm
Width - 47mm
Depth - 25mm
Weight - 320g
Chemistry - LiPo
Discharge Rate - 30C Constant
Burst Discharge - 55C (8 seconds)
Battery Capacity - 4500mAh
Voltage - 11.1v
Cell Number - 3
Connector Type - Deans
Balance Plug - JST-XH
Watt Hours - 49.9 (Wh)

Please Note: LiPo batteries must be charged with a LiPo-compatible charger. Never charge batteries unattended. Only charge Li-Po batteries with chargers specifically designed to charge Li-Po batteries. NEVER use a Ni-MH or Ni-Cd charger. Li-Po batteries, when not properly used, may burst and catch fire. It is highly recommended that a safe pouch or fireproof container is used for storage and whilst charging the battery. By purchasing this Li-Po battery, the buyer assumes all risks associated with its use.