Tamiya 1/10 TC-01 4WD RC Formula E Championship Livery GEN2 Car (Unassembled Kit) - 58681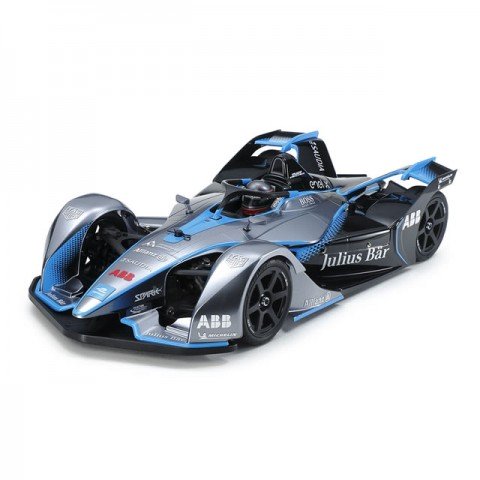 Tamiya 1/10 TC-01 4WD RC Formula E Championship Livery GEN2 Car (Unassembled Kit)

This is an RC model assembly kit depicting the GEN2 car used from 2018 in the Formula E championship, the pinnacle of electric car racing. The sleek, high-tech body with cowled wheels is recreated in polycarbonate. Halo, mirrors and rear diffuser/bumper are separately moulded components. Markings are included to recreate the Championship Livery car, and the model is based upon the shaft-driven 4WD of the TC-01 chassis.

The durable composite monocoque-frame chassis provides shaft driven 4WD from a central motor via front and rear propeller shafts, with oil filled gear differentials. 4-wheel independent double wishbone suspension employs long arms, plus inboard setups front and rear with oil dampers actuated by push rods and rocker arms to allow the use of low-profile bodies. Adjust spacer width to easily alter camber, skid and toe angle settings. Both suspension arms and uprights are identical left, right, front and rear, for more efficient pit work.

Features

1/10 scale RC assembly kit
Composite Monocoque-Frame Chassis
Shaft-Driven 4WD
Front & Rear Oil-Filled Gear Differentials
3-Piece Steering Tie-Rod
Front & Rear Inboard 4-Wheel Independent Double Wishbone Suspension
CVA Oil Dampers (Front & Rear)
Use of different spacers allows alteration of camber, caster and toe angles for maximum freedom of setup
Change bumpers and body mounts to switch between formula and touring car layouts
The shaft-driven 4WD layout uses TB-05 design oil-filled gear differentials for smooth, efficient drive performance.
Polycarbonate body
Halo and mirror components are moulded in white ABS
In addition to the unique Formula E Gen2 body, this chassis is compatible with standard touring car measurement bodies
Stickers are included to recreate the championship car livery

Specifications:
Length - 430mm
Width - 188mm
Height - 99mm
Wheelbase - 257mm
Tyre Width/Diameter - 24/64mm (Front & Rear)

In the Box
Tamiya 1/10 TC-01 4WD RC Formula E Championship Livery GEN2 Car (Unassembled Kit)

Required to Complete
2-Channel Transmitter & Receiver
540 Type Brushed Motor
Compatible ESC (Speed Controller)
4AA Batteries for Transmitter
7.2v NiMh Stick Battery Pack
NiMh Battery Charger
Servo for Steering
Polycarbonate Spray Paint
Tool set

Please Note: Complete vehicle shown in photos are for illustrative purposes only. This model is a kit requiring assembly and additional items. See Required to Complete list above for full list of items required to complete the model.