Tamiya 1/10 Audi Quattro A2 Rally TT-02 RC Car (Unassembled Kit) - 58667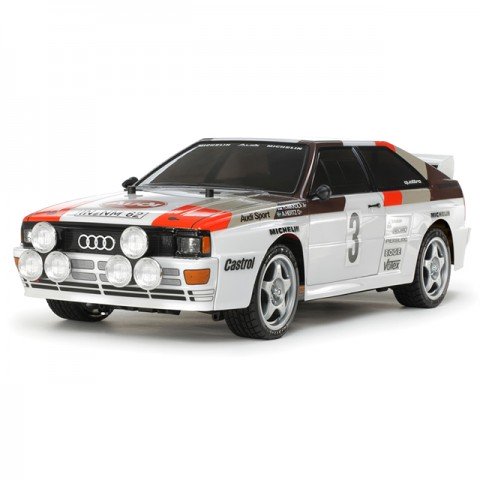 Tamiya 1/10 Audi Quattro A2 Rally TT-02 RC Car (Unassembled Kit)

The Audi Quattro A2 is an iconic Rally Race Car that made its mark in the 1980's. Tamiya's 1/10 scale radio control replica brings rally racing fun to hobbyists on the adaptable and easy-driving TT-02 chassis.

The shaft-driven 4WD TT-02 chassis employs a longitudinal layout with the battery on the left and the motor on the right, to give excellent stability. In addition, it features identical left and right suspension arms and uprights for ease of assembly, plus easy-to-maintain gearboxes. It is a highly adaptable chassis, as it offers 2 different wheelbases, 2 ground clearance settings and 2 tread set-ups in addition to a range of 10 possible gear ratios. It is not short on looks either, with brake disc-shaped wheel hubs and stylish front bumper supports.

Features
1/10 scale R/C model assembly kit
A2 body is moulded accurately in durable polycarbonate
Features separate metal-plated ABS parts for front and rear light cases, plus fog lamps. Side mirrors
Light cases are compatible with separately sold LEDs; fog lamps are not
5-spoke wheels are moulded in silver, and paired with racing radial tyres
The TT-02 chassis is an adaptable and balanced design with excellent stability
4-bevel differential gears and 4-wheel double wishbone suspension
Includes Tamiya Torque Tuned 540 brushed Motor
Includes Brushed ESC (electronic speed control)
An extensive TT-02 option parts line-up offers a number of opportunities to tune your car
Specification:
Length - 458mm
Width - 187mm
Height - 135mm
Wheelbase - 257mm
Tyre Width - 26mm (F/R)
Tyre Diameter - 66mm (F/R)
Drivetrain - Shaft-Driven 4WD

In the Box
Tamiya 1/10 Audi Quattro A2 Rally TT-02 RC Car (Unassembled Kit)
540 Type Brushed Motor
Brushed ESC Speed controller

Required to Complete
2-Channel Transmitter & Receiver
4AA Batteries for Transmitter
7.2v NiMh Stick Battery Pack
7.2v NiMh Battery Charger
Servo for steering
PS Acrylic Spray Paint
Tool set for assembly

Please Note: Complete vehicle shown in photos are for illustrative purposes only. This model is a kit requiring assembly and additional items. See Required to Complete list above for full list of items required to complete the model.