Tamiya 1/10 RC Comical Grasshopper WR-02CB (Unassembled Kit) - 58662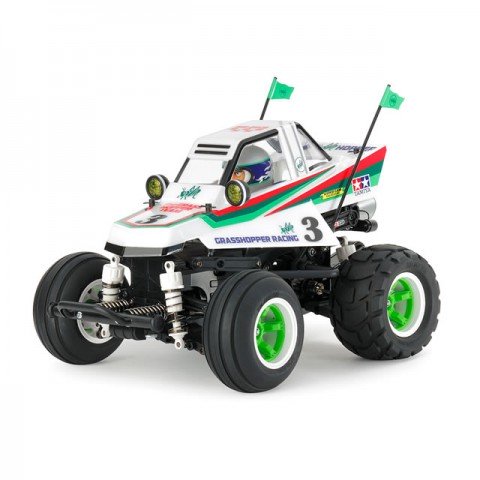 Tamiya 1/10 RC Comical Grasshopper WR-02CB (Unassembled Kit)

The Grasshopper is a legend among Tamiya R/C models, a 2WD buggy which debuted in 1984 and proved a huge hit with its single seater-inspired body, plus a simple chassis that responded eagerly to its driver's commands. The legend continued with the Grasshopper II in 1988, and now with this R/C model assembly kit of the new Comical Grasshopper. This R/C model assembly kit creates a 2WD buggy, with a lightweight and durable stylized polycarbonate version of The Grasshopper body. Stickers to create model markings are included, as are masking stickers for use during the paint job. There is plenty to catch the eye in the overall design too, with dual pipe parts giving an antenna motif, and parts depicting megaphone design mufflers. Separately sold LEDs can be installed for a truly awesome model!

The WR-02CB chassis is an exciting chassis at home on- and off-road, providing smooth driving and the potential for exciting wheelies! It features a pre-assembled gearbox with motor already attached to save hassle in the assembly process. Long suspension arms and CVA oil dampers make for excellent off-road performance, while under guard and side guards give great protection. A rear wheelie bar helps support the model when it leans back, maintaining a fun wheels-in-the air stance as the model plunges forward. Green and white 2-piece wheels are joined by bubble tires (front: ribbed, rear: round block) for a fun look and drive.

Features
A fresh new take on a Tamiya legend - the Comical Grasshopper body is a real eye-catcher in lightweight polycarbonate.
Rear poles and flags, plus rounded tires give the model a unique and bubbly look that just promises plenty of fun driving!
The WR-02CB chassis is based upon the proven WR-02. Hammer on the throttle for thrilling wheelies to impress your friends.
A smooth drive awaits with 4-wheel double wishbone suspension featuring long arms and CVA oil dampers with multiple positions.
The slim monocoque frame features longitudinal battery and central motor, with power transmitted by gears. Gearbox and motor are pre-assembled.
Side guards are there to protect the model in the event of a spill. The helmeted driver figure gives this model an extra dash of personality.
Floor the throttle and watch the model perform exciting wheelies thanks to the wheelie bar! Megaphone-style mufflers are a stylish design point.
The Comical Grasshopper is compatible with separately-sold 5mm LEDs and light unit, for a lit-up model that will truly look the part.
Specifications:
Length - 356mm
Width - 244mm
Height - 195mm
Wheelbase - 170mm

In the Box
Tamiya 1/10 RC Comical Grasshopper WR-02CB (Unassembled Kit)
Brushed Electronic Speed Control (ESC)
540 Type Brushed Motor

Required to Complete
2-Channel Transmitter and Receiver
4AA Batteries for Transmitter
7.2v NiMh Stick Battery Pack
7.2v NiMh Battery Charger
Servo for steering
Tool set for assembly

Please Note: Complete vehicle shown in photos are for illustrative purposes only. This model is a kit requiring assembly and additional items. See Required to Complete list above for full list of items required to complete the model.